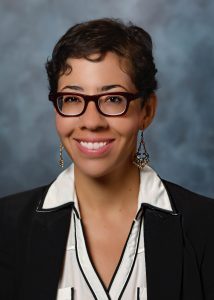 Kimberly Brown, MD – Psychiatrist
Areas of Expertise: General Psychiatry & Addiction Psychiatry
Kimberly Brown, MD is double-boarded in General Psychiatry and Addiction Psychiatry. She provides psychiatric evaluations and medication management with special attention to individual requirements. She is flexible and integrative in her approach to meet the needs and desired outcomes of each person. She carefully explores each patient's personal history, life experiences and attitudes towards medication, all of which she approaches with empathy, understanding and helpful explanations that facilitate treatment and a patient's sense of comfort and trust.
Dr. Brown received her medical degree from USC/Keck School of Medicine and completed her internship at Cedars-Sinai.She finished her residency at USC/Keck where she served as Chief Resident of Outpatient Services and received specialized training in psychodynamic, intensive short-term and cognitive behavioral therapy techniques. Following graduation, she pursued an Addiction Psychiatry Fellowship at the UCLA/Sepulveda Valley program. She has practiced in a variety of settings including the Veteran's Administration, emergency psychiatry, and hospital based psychiatric services. She is a staff physician at Cedars-Sinai for the Consult-Liaison department.
Dr. Brown enjoys teaching medical students and residents and has served as clinical instructor at the USC/Keck School of Medicine as well as a Grand Rounds presenter at USC and UCLA/Sepulveda residency programs. She holds membership in the American Psychiatric Association, The California Society of Addiction Medicine and the American Society of Addiction Medicine (co-editor of their weekly newsletter).
During her time away from her office, she enjoys sampling new cuisines on her travels and wrestling with her pup, Kirby.
For Dr. Kimberly Brown's full CV, click here